Alpaca Dog Toy (Beige)
$18.00
Stylish White Alpaca plush toy with a squeaker and a durable texture for your dog to enjoy. 
Features:
Soft and cuddly dog plush toy
Unique alpaca design with bright brown tones
Simple and clean look
Foil inside
Sizing Approximately:
Advice: Pets should be supervised while playing with this toy and please remove all labels before giving it to your pet. 
Customer Reviews
05/19/2020
Sara R.
United States
Best Stuffy Ever!!!
LOVE your alpaca stuffy! It was actually our 3 year dog's first stuffy as a puppy, and she still carries it everywhere. She tosses and swings it around and plays tug with it. It his most special and prized possession. We decided to get a second new, shiny one, and she's loving it!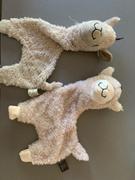 04/02/2020
Deborah C.
United States
Dog toy
Our corgis love this toy and since no squeakers lasts a long time.